I AM SO SCARY MEH??
- I dont know who is this Esmond guy. One of the strangers who added me in msn longggggg time ago. My msn email has been private for quite some time already. Haha. I think that im quite unfriendly in msn unless you are interesting, a close friend, or im too sian. Im just either busy doing something else or lazy to reply.
The birthday photos are all in my computer now!! YAY. Me and isaac are going to blog about them SOON! This few days bah. Aaaahh. I have alot of overdue things havent blog lor. A big pile of photos waiting in my computer folders.
Here's a story that my friend wrote. Whenever you are bored or have nothing to do, you can go click on this banner at my sidebar to read his story. Your support is important to him! Thanks.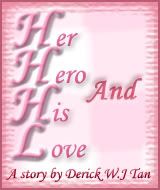 And And And..
I just found this old song that i used to LOVE when i was so still a kid. Nice.
(alternate link:
http://youtube.com/watch?v=rTlWqW6fSYc
)
Had actually wanted to blog about the day out with Jayden and Isaac, but no time liao. Want to sleep already. Blog about it tomorrow! Many many photos :D