GOT ERROR! Just when im ready to blog, Blogger.com dont let me upload the photos. Grr. Luckily Grace volunteered to help me upload into her photobucket album. Haha. Nice Grace.
Actually i dont like to upload my blog photos into photobucket albums because they always bandwidth exceed. And when they bandwidth exceed, i have no idea how to get back my photos -.-
Anyway,
DAY OUT WITH JAYDEN AND ISAAC.
Isaac asked me out to try the Laksa at Bugis that benjamin had recommended. Isaac calls it the Spoon Laksa because there'll be no chopsticks provided. We can only eat using a spoon.
My first time eating laksa using spoon only leh. lol. Actually the laksa wasn't very nice lah. The soup and noodle was okay but the prawn taste bad. $3.50 for a small bowl of laksa, noodles, fishcake and prawns isn't really worth it when it tastes not so good. I've eaten much better laksa out there.
Jayden sat opposite us while we ate, and im sure he was glad he didn't order laksa. Chat chat chat, and then we got tired of sitting at that hot place with all the small leaves landing on our hairs.
Me and isaac have not seen LaSalle before, so Jayden brought us to his school ! This wall already shows how arty this school is. Haha.
The school look very nice leh, but i think it's very small. It seems like everyone will know everyone. Moreover, the walls are almost all full-length windows. Even the lifts! I wonder if people usually wave to friends they see in the opposite lifts.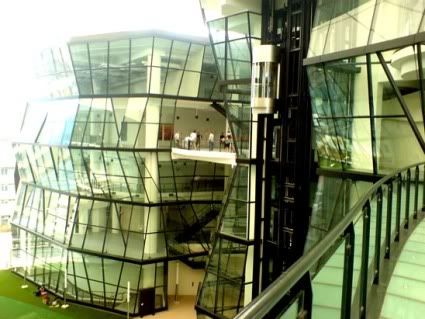 They have a green patch of grass in the middle of the school! Jayden says that it's very dirty. Got vomit and all those gross stuff. Yuck. Lucky we only stomped across the grass. Heng ah, i never itchy body go lie down on that green fake grass.
Stood on the bridge enjoying the view but after afew minutes, me and isaac started complaining the heat and we all rushed into the air-conditioned library. At first it was quite weird to be inside there as it was VERY QUIET and whenever i talk, i have to squeak.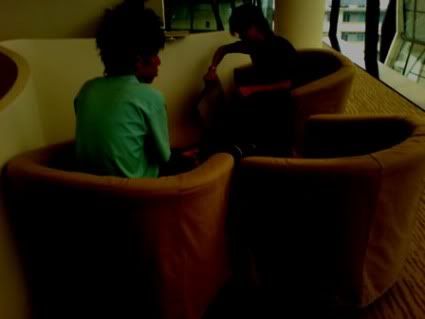 Rounded up a corner and started chatting again! Jayden taught us some photoshop skills, and jayden pinched my nose until it looks kinda weird. Hmmm. I forgot all the techniques he taught us already. LOL. i shall just stick to my lousy brightness contrast adjusting then.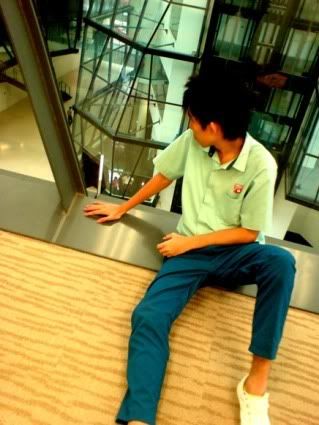 I think isaac look very nice in this pic below! hahaha. He looks nice when he dont smile, but he insisted that he wants to look friendly so he'll continue to smile with his teeth showing in his photos. hmmph. He close mouth really look nicer lorrrrrrr.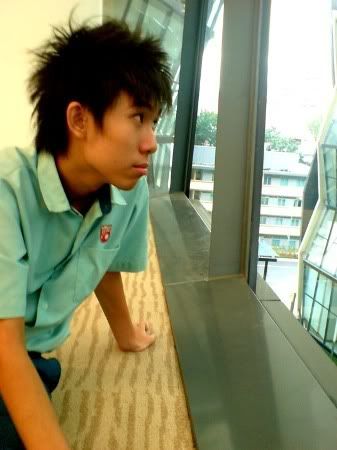 Im holding a big book!
This picture was supposed to have Isaac inside, but the camera didn't captured him.
Yay! Three of us! Isaac's face not nice so i help him cover with his favourite colour.
There got nice things to see meh?
I laid down on the carpet to take this 2 shots! I sacrifice leh.
Isaac paisei.
A series of Jayden's face!
I dont think he even know what he's showing us. LOL.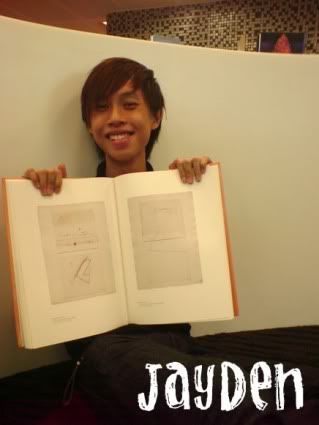 Jayden have no body.
Okay. Enough of jayden. Back to me liao.
We tried playing with the window panes. Got something separating his butt and my head one hor! haha.
No nicer poses to take, so we randomly took these.
MR ANGRY.
MR SCARED.
MS GRUMPY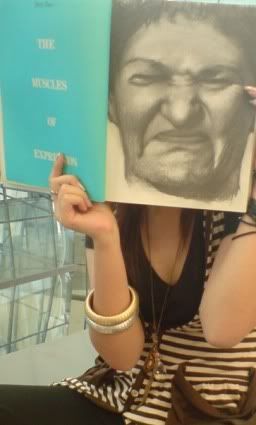 We saw two people there who looked like us. See!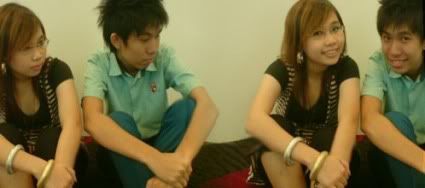 And i found my long lost triplet-sisters :D
We played with Jayden's PhotoBooth! Presto, my ugliest photos.
here are some of the cooler effects.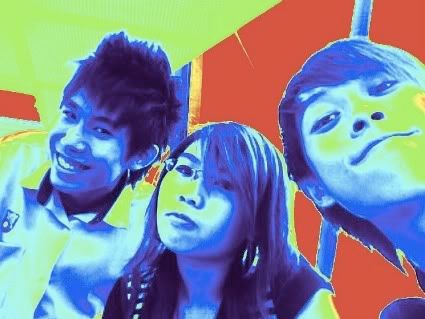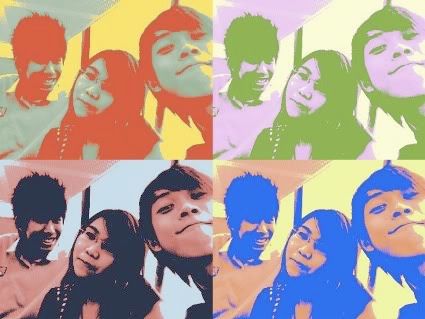 Jayden got Black Teeth. He ate too many chocolates.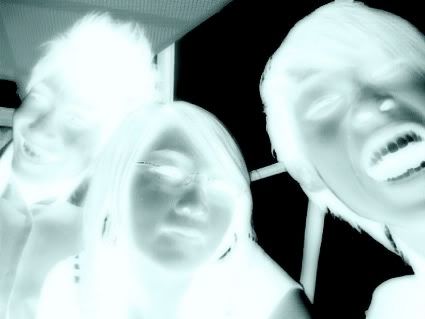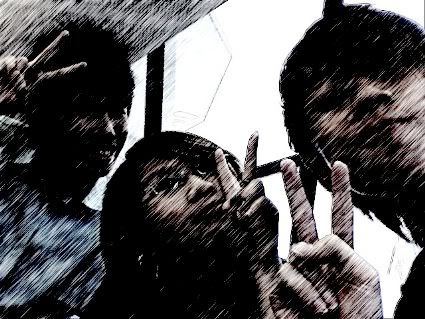 Me and isaac went to take photos at the magnificient wall after Jayden left.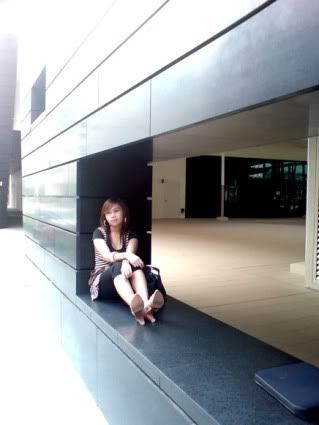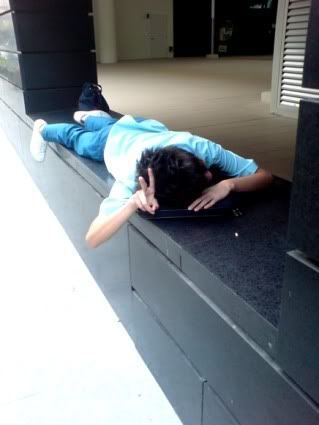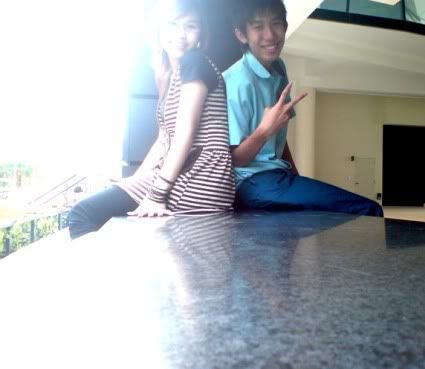 Walked around aimlessly wasting time at Bugis Junction. This is a skinny mirror!
Went to MosBurger. Isaac ordered his favourite milkshake and i ordered a piece of chicken.
The chicken was huge! I ate away the thigh portion and isaac ate away the breastmeat part because i didn't want them. He say cannot waste food. LOL.
The milkshake was super thick. Isaac spent very long to stir them into drinkable substance. Haha.
Mrt was packed while i went home.
ALMOST
fell on someone's armpit because of my heels and the mrt's irritating jerk. LUCKY NEVER. So erxin.
Anyway, Kelvin (one of the photographers at me and isaac's bday) kept talking to me about his eyecandy, so i went to search for Edison's Chen photo and told him that this is my eye candy.
He's super shuai lor.
*drools*