i smsed my sister one morning, asking her:
"Hey, what is iris' number?"
(i wanted to get the 'iris' bus info's number so that i can find out how long more my bus39 is going to come because me and sx have been waiting for it for 20 mins and he pekchek-ing already. haha)
The number replied:
"Good question but i have no idea"
(then i realised that i send wrong number.)
For some reason i found his/her reply funny. Haha.
Met up with Amanda for movie.
Watched "TALENTIME"
I felt that the show was abit too draggy at times, but i guess that's the director's style: to show a point by using a scene instead of just saying it out directly.
No wonder the movie is 2 hours.
Head felt heavy after i left the theatre. Haha but then i like the parts towards the ending. The storyline is cruel and true, although the languages and cultures used might not be very relevant to us because the scenes took place in malaysia.
Had crystal jade eggtarts after the movie. Very nice! I dont usually like to eat eggtarts cos once upon a time i had eggtarts almost everyday until i got scared of it, but this one is really sweet :)
Went over to Novena to eat XinWang! It's a new branch, heh. Ate my favourite again while amanda ate her favourite toast.
Amanda had almost no makeup on and i was in my dress-down state again. Not much camwhoring then!
Alright, my playfish games download just finished! Gonna play it now. Bye!
Sponsored Ad Mentions:


THEBLACKEMPIRE
http://theblackempire.livejournal.com/
Another new addition to the evergrowing blogshop-world! Do visit this new blogshop and bookmark them as they churn out more new collections! :)
http://theblackempire.livejournal.com/
* * *
DEARLULU
http://dear-lulu.blogspot.com/
http://lulu-goesthrifting.blogspot.com/
They are holding the first ever sales for their site and all apparels will be going at $15!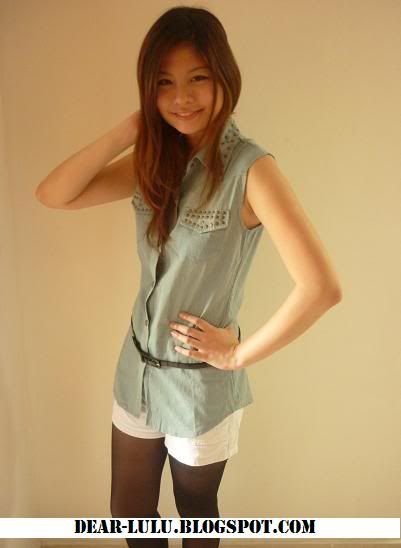 An additional promotion: Customers can purchase an apparel+ belt at only $20!
This sales will be held for a limited time to clear everything in preparation for their next launch. :)