Today, I am blogging about Ocean Park at Hong Kong!
I watch many TVB dramas, and the characters in the shows always mention this amusement park! So excited to check it out!
Started our day with McDonald's near our Hotel.
Ocean Park entrance! The "feel" here was extremely different from the magical "feel" at
Disneyland
! There were definitely more adults than kids!
Doraemon cafe near the entrance! Kept a mental note to eat here later but I forgot :(
It was nearing Halloween during the time we went so the bushes had all these pumpkin statues portraying chinese vampires. So cute!
Ocean Park is huge and segmented into different areas. There is a corner full of kiddy rides which we did not visit at all. We hardly had enough time for the thrill rides! There are also plenty of aquarium exhibits for those not interested in amusement rides. There's so much to do in Ocean Park!
Since we were the first batch that morning, our tour guide told us to head straight over to the summit via cable car or train and play the rides first while most people are still crowding around the area near the entrance. The gates finally opened for the day and after walking just a little, we were stopped by a barrier because the rest of the park was not ready yet. (zzz... then don't open the main gates first la....) Soon, the barrier crowded with people. As soon as the barrier lifted, the people surrounding us ran! Wahlao, got so rush meh?
There, the staff told us that the cable car is under maintenance that day so we headed for the train. The train master told us that they are still repairing the train so we would have to wait awhile. The sweltering heat was horrible and we didn't want to stand there and wait so we started to explore the area first.
Came to the Old Hong Kong area!
Not sure if we were too early, but the shops and game kiosks were not opened. The area was quite small and hardly anything to see. At the end was the cable car station and we saw people queuing so we joined them. The cable car master told us that it was working and we just have to wait for 1 more round of testing then we can go already. Then, 5 minutes later, it seems that the cable car was not going to be ready afterall. The staff told us to use the train instead. So confusing! So we went back to the Ocean Express station and took a ride over to the summit.
Finally at the summit! Our first ride was the Ocean Park Tower, which brings us high up in the air and rotates for us to see the park from bird's eye view! So pretty!
Afterwards our parents told us we can go and play the thrill rides on our own and they will go visit the aquariums. Woohoo!!
Me and sis went to play the Flying Swing as a starter! There were nobody at all around this area, so it was awesome! No waiting at all!
Immediately after, we played The Dragon!
A photo on the ride before we go. Only me and sis on the entire ride!
This ride was scary for two reasons:
1) My seat belt was not tightened as much as my sis'. No matter how much I press it down, it just wouldn't lock. Maybe my strength wasn't enough! Although I did have the first layer locked, it was not very close to me and I was sure it should be tighter. Throughout the ride, I was afraid that the locking mechanism would fail midway! Haha. Thankfully I survived the ride. No idea why I didn't speak up to the staff when I actually should.
2) And because of that, my earrings kept banging against the seat belt throughout the ride and it was extremely painful. I kept feeling that my ears were almost going to be ripped off! Such a torture! Midway through the ride I was contemplating to take out my earrings but couldn't do so. The whole ride I was so worried about my ears I did not really care how high or fast the ride was going.
It should be quit fun if I didn't have my earrings on. I didn't even feel myself going upside down on the ride because I was too concerned about my earrings ripping off my ears!
The pirate ship beside was closed that day :( What a pity! My favourite amusement park ride!
Then, we went on this ride called "Eagle", which looked kiddy and harmless enough.
But sometimes we really shouldn't judge a book by its cover. We were brought up to the top in the "eagle" and whirled round and round. The scary part was, because of the speed, we were swinging a lot up in the air as though we were hanging by a thread! It wasn't the stable merry go round ride I was expecting! Wanted to take a photo of it at the top, but as I mentioned earlier, this part of the park was quite empty and quiet. Only one other couple was with us on the ride!
Then, my sis went to try The Abyss. Of course I didn't join her. I not that brave!
It's a turbo drop ride which brings up to the top, then free fall. It looked less scary than the one in Genting though, because the one in Genting had clouds at the top which made it look extremely high!
Afterwards we joined our parents at the Dolphin Show! Soon after, it started to rain heavily and they used the park map to cover their heads and the maps tore after getting wet! Haha. I protected my map and used my bag to cover my head instead since I know we definitely need the map later!
After getting all drenched, we managed to make our way to lunch! We did pass by "The Terrace" earlier but we didn't think it was worth it because the food was chup cai peng style and at least HKD188 per plate.
By luck, we landed ourselves at Tuxedos Restaurant!
It is a waterfront restaurant, and the prices are around the same as the chup cai peng food at The Terrace. This is so much more worth it!
Penguins are so clumsy and adorable!!!!
Many of them kept walking around looking at the floor as though they were trying to find something they dropped. Haha.
The food was mostly western!
Feeding time!! We saw some huge penguins standing far behind without moving and I thought they were statues. Lol. In the end I saw them move. So actually is real one!!!! Hahaha. I wonder how they can stand there and not move at all for minutes! Mostly the smaller ones are the ones that gather around the staff asking for food, just like kids surrounding an adult giving out candies!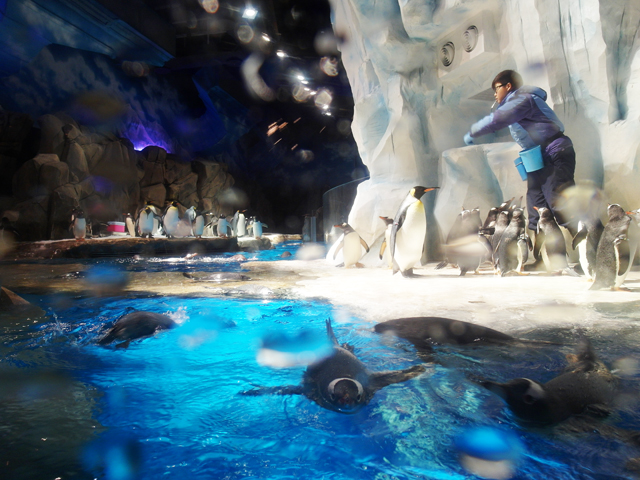 Can I have a baby penguin as a pet? So cute!!!! I can just sit there and look at them for hours.
Dad and mum, and two penguins behind! Hehe.
Daddy and the penguin.
The Tuxedos Restaurant is located near the Polar Adventure area! We went in to see the exhibits and it was so freezing cold inside!
Afterwards we went to queue at the Arctic Blast! It's my favourite type of roller coaster ride because it is the "fast but steady and not scary type". Haha.
There was an extremely long queue and we waited very long for this ride! There were these two ladies before us that tried to cut other people's queue, and kena caught by the station master who got them to re-queue from the back! Serves them right lor. After that, the aunty behind me kept pushing me and sticking to me. It was very irritating and I keep tsk-ing. Afterwards, I told her off because I really couldn't stand it anymore! It is not as though if you stick to me, the queue will go faster!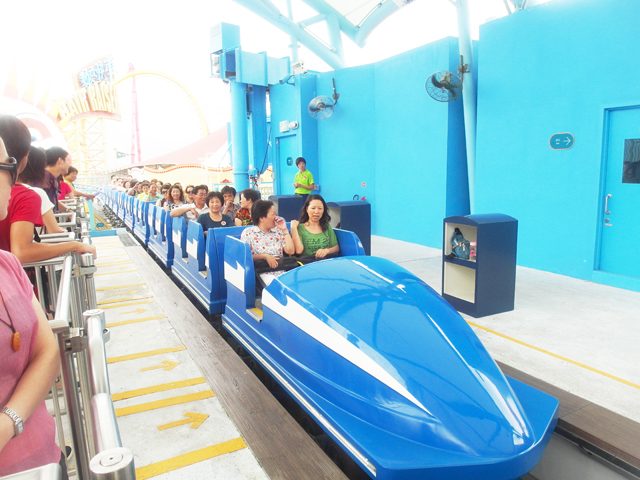 My sister went on The Flash! I didn't dare to go up, so she went alone again! Haha. This one swings the riders up 360 degree up in the air!
I am definitely more of a fun-fair person. I prefer to play those tame game kiosks and win big teddy bears! Hehe. There were also such kiosks around the area and I saw someone scored a big plushy! So envious!
Sis force kissed the poor penguin. Haha.
I really like Ocean Park alot although the place is really infested with many other ill-mannered tourists! However, my parents think it's more tiring than fun because as it is a very huge park, getting from attraction to attraction requires alot of walking!
Anyway, it started to rain quite badly towards the end of our day at Ocean Park and our coach to go back to the hotel was caught in a jam so we had to stand in an outdoor shelter for quite some time!
***
Read the rest of my Hong Kong entries here:
Hong Kong: Mong Kok, Tsim Sha Tsui 1
Hong Kong: Victoria Peak
Hong Kong: Wan Chai, Repulse Bay, Aberdeen
Hong Kong: Tsim Sha Tsui 2
Hong Kong: Causeway Bay
Hong Kong: Disneyland
Hong Kong: Ocean Park
Hong Kong: Lamma Island
Hong Kong: Causeway Bay 2
Follow me elsewhere!
www.instagram.com/theiceangel
www.twitter.com/theiceangel
www.dayre.me/estherxie
More entries on:
http://www.estherxie.com/p/fave.html
Am always on the lookout for more travelling/staycation opportunities. For advertising, sponsorship, or collaboration, email to the-ice-angel@hotmail.com :)