Im feeling so sleepy now but still gotta try to stay awake so that i can update the blog abit. Missing my pillow much!
I've so much to say!
Twittered alot today! One of them is: "Busy people r thinner. Cos ppl like me who have nothing to do will keep eating non-stop to pass time."
Isn't it so true??!!
I had nothing to do justnow so i went to one cafe to eat 2 eggs, one plate of cheecheongfun and a icemilktea! Then i walked pass KFC, i went in to eat the Snackers Drumstick with frenchfries. Finished all! Afterwards i walked past Ichiban japanese restaurant actually want go in eat chawanmushi or something one! But then i saw the "CLOSED" sign! :(
Hahaha. Then when i got home daddy brought us downstairs to eat bakchormee and chicken wings!
Wheeee.
Before having all those food i went for a manicure! Lazy to go down to milly's and since im doing a simple manicure i just went to a random nail shop to do it. Immediately after doing it hor, i smudged it! So annoying!
Always happens you know. That time when i was doing pedicure, i accidentally overlapped my toes and rubbed the wet polish off twice! In the end gave up and didn't reapply it. So now got one smudged area on my toe. Lol.
Which is worse? Ruining a manicure done by yourself or a manicurist which u had paid for?
I like O.P.I's nail polish colour: Sweetheart and NoBeesPlease. Did Sweetheart at Millys and NoBeesPlease at this random nail shop. So nice! Actually i find alot of O.P.I colours very gorgeous leh. Always very difficult to decide on the colours i like!
Anyway, i had nothing more to do so i smsed SX! Guess what i sms him? I sent one "i miss you" related message every minute, for 30 minutes. Each message is different from one another, all written differently but meaning all the same. So in the end i sent 30 different forms of "i miss you" to him. He laughed. Lol. So boliao right.
Anyway i went to temporarily curl my hair using the curler at Milly's yesterday. I think nice and my colleagues all think nice except SX! He think straight nicer! Aiya he typical boy lah, he like those WangXinLing type. Big eyes, skinny, fair and straight hair! Too bad lor, out of all these i only have fair skin. I am not skinny, have small eyes, and wavy hair. Oppposite from what he wanted. Hahaha.
I got pictures of my new denim jacket with my lovely floral dress and curls! Upload them nextime.
Just now when SX brought me home, he accompanied me up the lift to my floor, which is tenth floor. Before i left the lift, i went to press all the buttons in the lift so that he have to stop at every single stop before he can reach 1st floor. Hahaha.
After i got into my home, i smsed him:
"Fun anot? Hahaha"
Him: "Lucky i know how to make it away, only stop at 9th floor only. "
Me: "WAHLAO. How you know one. Not fun already. "
Him: "When i small i got play lift one. So i know the cheat code to unlock it. Haha. Nextime you go lift i press all see nice to play anot. "
Me: "hmmph. Not happy now. Why you never open all the door =( "
Him: "By the time all the door open already midnight already. Then i take cab have to help the uncle to wash cab ar. Lol. "
Anyway, here are some sponsored short advertorials!
Lotus blume:

http://lotusblume-collection.blogspot.com/
Attached their banner at my sidebar.
Go visit it and support the shop okay?
Selling many items, including accessories, authentic branded items including prada, celine, Lv.
Tianage:
http://tianage.livejournal.com/715.html
The new collection selling many pretty stuffs!
I like quite afew of the apparels...
Here are some examples:
Jaziekylle:
http://jaziekylle.livejournal.com/9486.html%23cutid1
Helped them with an advertorial before.
Check out their newest collection as well, featuring a number of beautiful clothing :)
Here are some of which i like!
I like long tees. So casual!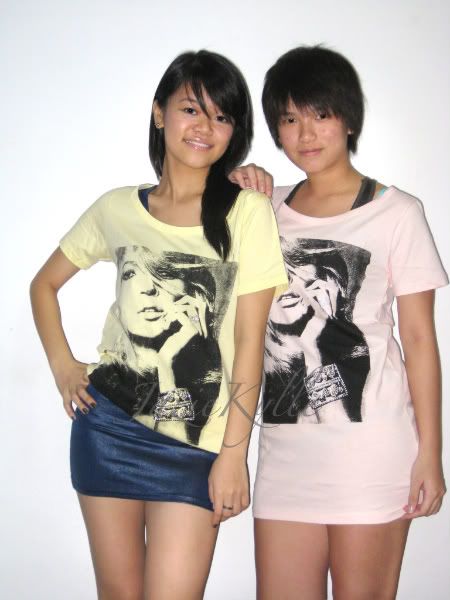 And this simple tank top with shimmery words
Alright, i gotta head for my bed and pillows already. Have to wake up early tomorrow. Niteys!