The Best Eggs Benedict Ever.
Choupinette is well known for their Eggs Benedict and before heading over, I was contemplating between the Eggs Royals (Smoked Salmon version) or the much-raved Eggs Benedict. I usually prefer smoked salmon over ham/bacon, but I am so glad I decided on the Eggs Benedict in the end because they are AWESOME. I can never eat another Eggs Benedict without comparing it to this one anymore. The layered meat went so well with the whole dish, it was heavenly. I take back all my praises for other Eggs Benedicts in the past because nothing came close to this.
Choupinette is a cozy, tiny café near Coronation Plaza and doesn't take reservations, so it is likely that diners have to wait outside for quite a while before getting a table.
Bf went to the pastry counter and came back with this. Donut with rainbow sprinkles! So instagrammable! Haha. It was nicer than I thought... I guess I was hungry.
Bf got himself the Tristan Set.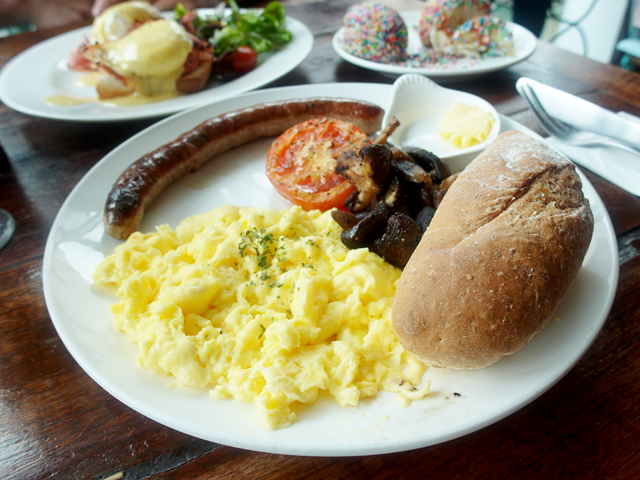 Don't you think the eggs benedicts look perfect? Well, they taste perfect too. Was so pleased with my meal.
The sets available were quite pricey, mostly above $20. However, they come with a hot drink - coffee/tea/chocolate and fruit juice. The juice was great for pairing with the meal, while the hot drink was a nice way to end the meal.
Hot Chocolate for bf.
And latte for me.
Wore this bright and cheery dress from
Earthdoll
(Bukit Panjang Plaza #03-21)! I really like how sunshine and summery this design was! The material was light and breezy, perfect for our sunny island. Can wear it to the beach next time!