Today, I want to share the items I got from my previous shopping spree at Bugis Street! Guess how much I got all these for?
25 items
(Heel, Bags, Tops, Dresses, Accessories), for only
$99.90!!!!!
That's like an average of $3.99 per item!!!! *gasp*
Scroll down to find out which shops I got all these awesome deals from!
❤ ❤ ❤
Whenever people ask me for good shopping destinations in Singapore, my first reply would always be
Bugis Street,
the largest street shopping location in Singapore.
I was a big fan of shopping for apparels at Bugis Street ever since my school days and there are many reasons for that!
WHAT I LOVE ABOUT BUGIS STREET
- Affordability which does not compromise on quality. I have bought many dresses (for only $5!) from here with good quality material which lasted many washes.
- Wide range of designs and choices available (3 levels of shopping paradise!) and new stocks come in frequently. The latest trends can always be found at Bugis Street.
- Fully air-conditioned. Yay to comfy shopping!
- Easily accessible. Just across Bugis MRT station!
MY FAVOURITE SHOPS AT BUGIS STREET
First, let me introduce my MUST-GO shops on every visit.
For accessories, I go straight to LUMI at Level 1. Walk in from the "wo ai tai mei" entrance and you will see it.
Prices are 1 for $2, 3 for $5, and
7 for $10
.
That's $1.42 for each accessory!
I spent a long time in this shop because there were just so many choices to choose from!
Retro rings are at
$1
each!!!
My haul from LUMI:
7 earrings for $10
and bracelet + necklace at
2 for $10
. My favourite item is the necklace! It's such a fashionable piece and can easily cost a lot more elsewhere.
One of my favourite piece from LUMI is this pink one. More photos of me wearing these accessories in the OOTD photos throughout this entry!
Another one of my favourite shop is DREAM, which is located near the entrance beside the ATM. I find that the clothes here are often trendy and I always cannot resist browsing whenever I walk past.
On Level 2, my favourite would be CHERIS. It is located right smack in the middle, near the shop selling the very popular crepes! The dresses here are mostly my style and very pretty!
They have a sale area in the middle and I always find awesome stuff here.
This time, I got myself 2 dresses for $10!!!
$5 each!
Here's what I got!
Floral dress, $5 from Cheris
The material was good and not sheer at all! So versatile and easy to match, I think I am going to wear and rewear this many times! Photo also featuring
$1
belt from DE EDGE and heels from RUSH, featured further down the post. The necklace was bought during a previous shopping visit at
only $1
!!!!!
Owl Earrings from LUMI. Love it!
Another dress I got from CHERIS:
Black dress with Cloud Prints, $5 From Cheris
Besides awesome material, the cut was also very flattering! Seriously... the gems you can find at Bugis Street for just $5... Sometimes when people ask me where I got my dresses from, it feels so satisfying to say I got it at a sweet deal of $5.
And a cute dollar sign earring from LUMI to match the cute prints!
On Level 3, I have a major love for the central area, because that's where all the open-concept shops are. I always love drawing inspirations from how the mannequins are dressed here. Often, I would be very tempted to get everything on the mannequins and wear them the same way! In this photo, I really liked the black and red ensemble with the floral outerwear!
Super love the styling.
Beside, there is a shop selling the prettiest dresses. I wanted all of them!
Back to Level one, another of my favourite shop is TOP SELECTION, located near Lumi. See the huge $5 sign there?
I got myself two tops from this shop at $5 each!
One of them is this design which could easily cost me more elsewhere.
Mesh Top, $5 from Top Selection.
Pairing it with another pretty earring from LUMI.
Off shoulder white chiffon top, $5 from Top Selection
Pink Panel Skirt, $5 from Her Closet (see below)
Love how sweet and lovely the top is!
Paired it with gold leaves earrings from LUMI.
BARGAINS I FOUND AT BUGIS STREET
The skirt featured together with the white top above at $5 only was from HER CLOSET at Level 2.
I got another skirt from the same shop:
Purple flutter skirt, $5 from Her Closet.
If you thought the skirt at $5 was awesome enough, guess how much the top above cost?
Pink Floral Top, $3.33(!!!) from shop beside Livia
Tops were selling at 3 for $10! The designs are all selling at $10 - $18 elsewhere! I would say this shop was the best find I had that day.
Where else can you find trendy tops at
3 for $10
?! Obviously it was an awesome deal people so many people were also flipping through the rack while I was choosing!
I got myself 6 tops at a go. $3.33 each, grab!!!
Top with hot air balloon print, $3.33 from shop beside Livia.
Wearing the necklace from LUMI!
Pink top with cloud print, $3.33 from shop beside Livia.
Paired with dainty earrings from LUMI.
Simple and comfy blue top, $3.33 from shop beside Livia.
With matchy bracelet from LUMI.
And blue feather earrings from LUMI.
Floral white tank top, $3.33 from shop beside Livia
Cute watermelon print layer top, $3.33 from shop beside Livia
Another awesome bargain I got was from DE EDGE. It is a big shop selling accessories and bags at Level 1 in a corner.
Saw this bag and knew I wanted it! 1 for $12, 2 for $19!
Actually I should have gotten 2, then it would be
Brown Bag at $9.50 each!
Also got myself another bag from the same shop.
Cute heart shape bag, $6.90 from De Edge
So I got my dresses, tops, accessories and bags.... What am I still lacking? Heels! There are many shoe shops on Level 2 and often you can find nice ones at the sale section. RUSH is the most prominent and have a wide range of $10-$15 heels.
Mustard wedges, $10 from Rush
More $5 shops!!!!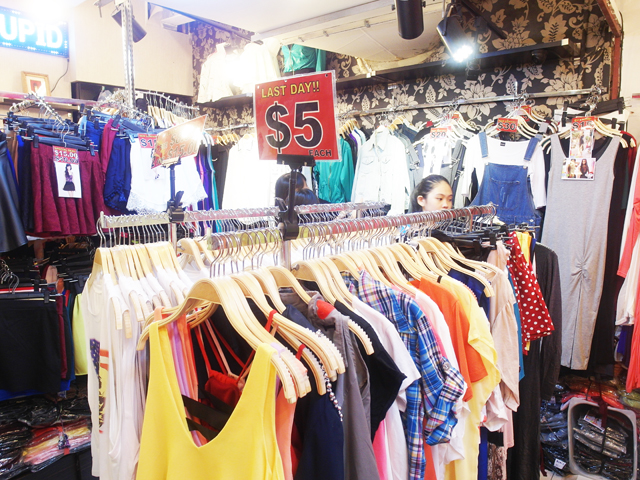 You know what?
My sister just told me she got a
trendy crop top
from Bugis Street Level 3 at
ONE DOLLAR
! Can you believe it?
ONE DOLLAR!!!
She told me there were several designs but she only got 1. If it was me, I would probably get 5!
There are so many things to buy at Bugis Street....!
For example, $5 watches are extremely popular here.
Trendy apparels ranging from street wear to feminine styles.
Fell in love with this floral top at first sight. Now I feel really sad because I didn't buy this!
There are also quite a few shops selling men's clothes.
Nail salons.Here's where I usually get my nails done!
Phone covers and stickers.
Food.... I love the fried chicken at Wo Ai Taimei!
Thirsty after hours of shopping? Drinks at only $1 per cup!
Tempted to visit Bugis Street already? That's not all! There are also monthly lucky draw and daily sure-win lucky dips with attractive prizes to reward shoppers!
Bugis Street Monthly Lucky Draw – Get Lucky
• Spend a minimum of $50 in Bugis Street (in a maximum combination of 3 same-day receipts) between 2nd June – 27th July 2014 and stand a chance to win the following prizes!
1st Prize:
4D3N trip to Hong Kong
(includes Cathay Pacific air tickets + taxes, hotel)
2nd Prize:
$500 worth of Bugis Street Shopping Vouchers
3rd Prize:
1 night stay at Parc Sovereign Hotel Executive Room (worth $228+)
Consolation Prizes:
10 winners of $100 worth of Bugis Street Shopping Vouchers each
What wonderful prizes while shopping! I would be contented with winning any of the above!!!!! I bought 25 items with $99.90..... Imagine $500 worth of shopping vouchers???? Can buy 125!!!!! I feeling excited just thinking about it! After all that shopping, winning a trip to Hong Kong or staycation at Parc Sovereign also sound awesome!
• There will be a draw for each month. Which means shoppers have both June and July to stand a chance to win the prizes!
• Spending a minimum of $50 also entitles shoppers to a sure-win lucky dip (Redemption location is at Level 3, opposite #03-107 between 1pm to 9pm) with the following prizes:
- Bugis Street Gift Vouchers
- Bugis Street Souvenirs
- Tote Bags
- Calendar Pens
I forgot to try my luck at the sure-win lucky dip the previous time I went though.... Nevermind, you all win for me okay!!!! ^_^
(AND WINNING)