When I arrived at Yilan, I had only one word to exclaim: "Wow."
It was so beautiful! Huge green fields, with the occasional house in between. I just kept looking feeling fascinated and wondering what life must be for these residents. The houses were huge, and every single one of them are hundreds of meters away from each other. I was so used to the compact city life that this felt refreshing. But hor, if house ran out of soy sauce hor, must travel very far to borrow from neighbour. Haha.
Even the populated area was quite pretty in its own way.
Couldn't decide between the above and below photo so erm, post both lor. Heh.
Took plenty of street snaps because everything look so photogenic. I guess it's just 新鲜感 in a new city!
Dropped by a convenience store to buy some snacks and drinks.
We were told to buy bottled water in Taiwan because tap water may not be safe to drink.
We were recommended to buy this brand because it's better water or something. Haha. But it's almost twice the price of other regular water. Anyway, something funny happened. Mum accidentally toppled one of the bottle in the fridge and suddenly one hand popped out from behind to prop the bottle back properly. Hahaha so scary! Usually this kind of fridge behind is wall mah, where got hand suddenly from behind pop out one! Apparently in this shop behind the fridge is the warehouse and just nice got a staff walk pass and saw the toppled water and put it back nicely.
Another street snap.
顺便snap myself also lo. Haha. I shall caption this, "Me on the streets of Yilan."
We left the town area and went to the mountains.
Our accommodation at Yilan was Shangrila Leisure Farm!
According to the website,
'Shangrila Leisure Farming is situated in Da-yuan Mountain surrounded by hills and mountains. It offers picturesque overlook views of valleys, rivers, plains, farms, and ocean. Here is an enchanting place where you will forget all the worries and the stress of daily life.'
The last sentence is indeed true. It felt like I was so far away from city life, away from all the hustle and bustle.
Why are the skies so blue in Yilan?
There are also nature walks available for guests to see the vegetation and farm area but we didn't take part in those. Haha. Crazy right, go for farmstay but never check out the farm.
The building exterior is quaint and charming ain't it? This is the more modern accommodation available at the farm. I think that it had some "min su 民宿" feel!
Our rooms are further up ahead, a row of wooden double storey houses.
The corridor to our rooms felt like a hostel, but once I entered my room I felt instantly cozy! It is definitely different from staying in a hotel room! But hor, I think must see your luck lah, because my parents kena a room that had lots of moths everywhere - the beds, the walls, the floor, the bathroom. Ours were fine, just afew here and there. Remember to close the windows and doors tight shut! There are insect screens at the windows but I don't think they really work because if they really do, then there shouldn't be any moths inside our room right?
Our backyard led out to a normal backyard area but my parents had a balcony which was overlooking this view.
Dinner time!
We went to the restaurant under the more modern hotel for dinner.
Even the restaurant was decorated with huge insect figures. At that point I didn't really know what kind of farm this was, so I jokingly told my friends, "I think this is an insect farm." Haha.
Thankfully there were no insect dishes for dinner. Lol.
Group photo with the family! Last year we went to
Hong Kong
ourselves, then earlier this year we went to
Bangkok
with my grandparents and uncle's family, then now we went to
Taiwan
with my grandparents and another uncle's family! Hopefully that we can go overseas with my aunt's family. Then after that, altogether one whole big group of 20! 想到就exciting!
In order to let visitors experience folk activities, the farm also hosted a series of programmes at night. It felt very "villagey"! No such word but I think you know what I mean... you know, the kampung feeling where the whole village gathers for the night and do traditional stuff?
There was a spin-the-top competition where guests can take part for fun!
Uncle and grandpa trying out to see how to spin the traditional top.
It was my first time too! And errrr, I conclude I can't spin tops. But it was quite an interesting experience!
There are several techniques involved, and soon everyone was absorbed in trying to make their tops spin steady and long!
Seldom see my grandpa so into something so I quickly snapped many photos. Haha.
My aunt and sis signed up for the spinning competition since they managed to at least spin the tops for awhile successfully multiple times. Mum and me went to sign up for grandpa although he paisei keep say don't want. Haha.
In the end he won 2nd prize wor!
Afterwards was fire crackers time! I was so excited and took out my camera to snap a shot.
But guess what, the above was the only photo I took before it cracked. You know why? Because when it cracked the sound was so loud I got a shock and ran all the way to the back of the crowd. Hahahahahahahha so paisei lor. Luckily everyone was concentrating on the firecrackers so I think nobody noticed me running away. Hahahahaha. I didn't know I will be scared lor! I still put my camera up preparing to take a photo and thought I was far enough. Didn't know it's so scary.
Luckily my sister is braver than me, so at least I can use this photo of the fire crackers that she took.
We also had a chance to make riceballs! Riceballs are a symbol of reunion, joy, and blessings, to celebrate the day of winter solstice.
Roll roll roll the ball~
Our production line is not very consistent huh, some big some small. Haha. They cooked all the riceballs but we didn't dare to eat any of them because erm, I'm not sure if the other strangers washed their hands before rolling these.
Photo opportunities with the Santaizi mascot.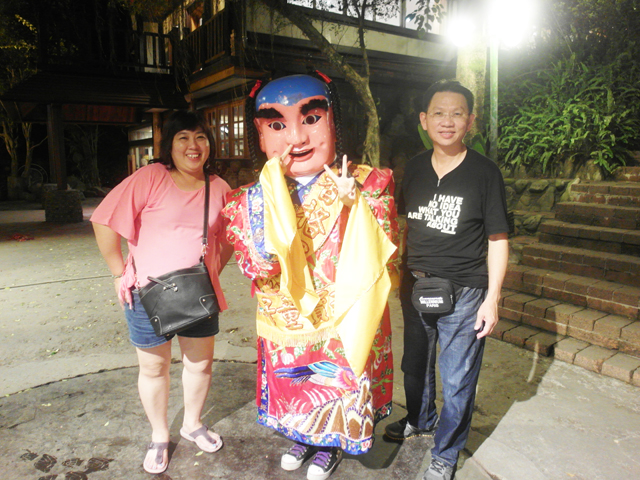 Then letting go of sky lantern!!! So happy that the weather was good enough for us to do so. We didn't have a fanciful sky lantern though, because it was shared with other guests and we just wrote our wishes on normal black marker. Better than nothing lor.
Some guests bought fireworks to let go so we got free fireworks display to watch! It was quite nice at first but I got a little scared afterwards because we were so close to the explosives and it was really super loud! Those people who pay to play with these fireworks not scared one meh? I heard one guy let go of the fireworks in the wrong direction after lighting it and it shoot horizontally instead of vertically and almost kena someone but luckily the person dodged in time. After awhile I got more scared and went to hide indoors. Hahahaha. Super no guts. While I was inside, they let go alot of different fireworks very quickly and they all pop up very beautifully in the sky. Fireworks are nice to watch but I must make sure I'm a distance away. Lol. But I thought it was quite cool that we could pay to shoot fireworks ourselves.... should be quite fun for those adverturous people, especially since we can never do that in Singapore.
This is the lobby area, also where I hid during the fireworks. Haha. There were moths flying around but at that moment I decided I was more scared of fireworks than moths.
That night was quite horrifying. Not sure why but the moths in our room multiplied when we went back even though we closed all openings. I was so afraid of bathing that I made sure my sister got rid of all the moths before I went in. But there was still one on the wall so I bathed very quickly at the edge of the bathroom with half my body out of the bathroom door so that I can run away in case the moth started flying. Haha. There were moths everywhere, big ones small ones. The corridor was filled with moths flying, on the walls, etc.Not sure if it was because of the season or if the farm was always like that. Dad wanted to come over to our room and I went to open the door when he pressed the doorbell. When I opened a little, suddenly I heard a sizzling sound and my sister from her bed screamed "close the door!!!!" and I faster slammed the door shut, leaving my dad outside to battle with the sizzling insect. Hahahahaha. The staff helped to clear away the insect which my dad described to be as huge as a bird. What an adventure. We actually bought cup noodles up wanting to have it for supper but looking at how mothful the place was, I decided against it and went to bed early that night so that day time comes faster and we can leave faster. Haha. I usually leave my suitcase opened up and messy in hotel rooms but that night I zipped shut in case the moths decide to nap inside and kena smashed by my clothes unknowingly. Think also scary.
Woke up with a big moth on my bed.... Eeekkk!
Anyway, my sister woke up first and she said she spent the entire morning getting rid of moths because she knew I would start shrieking if I see those moths when I wake up. Hahaahah my roommate so kelian, must help me clear moths the entire stay. Luckily she's not as scared as me else we both jialat.
Time for breakfast! Luckily the restaurant had no moths. Seems like the moths know they are not supposed to appear there.
The spread was mainly vegetarian porridge spread, which the rest enjoyed.
Had simple bread and butter instead~
I urgently needed to pee that morning and when I went to the public washroom, there was a big moth sitting on top of the end of the urinal (the squatting type... what are those called?). I was thinking if I should just take a risk and use it and hope that the moth doesn't suddenly fly, or not use it at all. In the end I decided better not and walked to another washroom a distance away. Haha.
Even though it was an interesting stay, I must say I am very tramatized by the insect-room. I have since referred to this place as the insect-farm. Haha. I confirm cannot stay in the countryside. So scared of insects, how to live peacefully? I would be shrieking every single day haha. For those people who aren't affected by moths, I guess it's quite a nice place?
Shangrila Leisure Farm
168,Mei-Shan Rd., Dong-Shan Township,
Yi-lan County 269, Taiwan
TEL:03-9511456
Read my other Taiwan blog entries!